Voter id card serves as primary identity proof for other documents. Even to apply for aadhaar card voter id card is mandatory. It is applicable to every Indian citizen who has 18 years of age. If one does not possess a voter id card, then they are not eligible for right to vote. The year 2018 started with elections in Tripura, Meghalaya and Nagaland. Now its turn of Karnataka. With a whooping of 64.6 million population in Karnataka, assembly elections are going to be held  in 224 assembly constituencies. The present tenure of the ruling party is going to end up by may 30.
Elections are going to be held on 12th may 2018. Karnataka is bucking up for elections. Being a responsible citizens it is the duty of Karnataka citizens to have a new or updated voter id card or epic card.
Who are eligible to apply voter id card Karnataka online
Citizens who have attained 18 years of age

Whether residents of Karnataka

Citizens who are mentally sound

Who are not involved in any of the malpractices in previous elections

Not registered in more than one constituencies
How to apply voter id card in Karnataka
One can apply voter id card and enroll themselves through
Online method
Offline method
How to apply voter id card in karnataka Online
Firstly visit the official CEO page of Karnataka
http://www.ceokarnataka.kar.nic.in/
Click on the option enroll online as a voter
To get new voter id card one has to register themselves in ceo Karnataka portal
One has to become a registered user
Click on the option register, for new user and create an account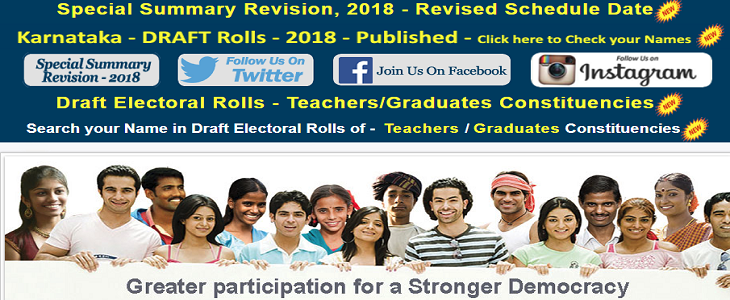 In the signup page enter
First name

Last name

Mobile number

Email id

Sex

Secret question
Password is provided for one time. Create your own password, so that whenever user login he uses his own password
Now once again login with username and password and click on login
http://voterreg.kar.nic.in/Home.aspx, the following page appears
Applying for new voter id card or including your name in electoral list, click on the option form 6
http://voterreg.kar.nic.in/selectAc.aspx, in this page, select your assembly constituency
Select from the list
District

Assembly constituency
And click on the option click here
Form 6 appears on screen
Firstly you will be having 2 options
First time voter

Shifting from another constituency
Select First time voter
Enter all the details carefully like name, surname, sex, address, birth details, relationship details, etc.,
Enter on the button save and continue to next page
In the next page upload all the documents
Click on Submit
Your application process takes place within 20-25 working days. BLO officer visits your residence for verification. You will be given new voter id card within one month through post.
If within 1 month this did not turn up, then visit nearest electoral office and take it by hand
How to apply voter id card in Karnataka offline
You have 2 options
Option-1 : Download the form from CEO karnataka portal

Option-2 : Take it directly by visiting nearest electoral office
Option-1 : Download the form from CEO karnataka portal : Log on to official CEO karnataka portal, register yourself as a member.
Click on the option download forms
Click on form 6
Here one can choose between 2 languages Kannada or English
http://ceokarnataka.kar.nic.in/Forms/NewForms/Form6-E.pdf
Download, fill in the form and submit it with documents at electoral office
Option-2 : Take it directly by visiting nearest electoral office : visit the nearest electoral office. Approach electoral officer and take form 6
Fill in the form properly, and submit it with supported documents
What are the documents to submit for applying voter id card karnataka
2 recent passport size photographs
Address proof(any one)
Ration card

Electricity bill

Telephone bill

Gas bill

Bank passbook

Post office passbook
Age proof(any one)
Birth certificate issued by municipal authorities,

SSC/SSCL certificate from school authorities

illiterate/semi illiterate who does not possess the above shall produce a declaration form from parents