Check Land Details with Survey Number
Telangana and AP has started the online process of checking of land details like survey number, adangal, pahani, encumbrance certificate, 1-B records, etc., Going to MRO office and enquiring about land details was quite lengthy and time consuming process. Except Hyderabad, all districts Mehboob Nagar, Ranga Reddy, Medak, Nizamabad, Adilabad, Karimnagar, Warangal, Khammam, Nalgonda,etc., The pattadars(land owner) can check the survey number, compare the market value, of the land. Land owner has to register and link his survey number with aadhaar number, so that if any other person is registering for the same land, the land owner get alerts immediately through SMS.
AP started this process with the name "meebhoomi". Then later Telangana also made same website which little changes and named it as "mabhoomi".
Mainly farmers and pattadars can also lodge complaints and queries if any. Pattadars /farmers whose land records are not in website, then they has to approach MRO to get entry in website with necessary documents.
Chief Minister, Deputy Chief Minister and Chief Commissioner of Land (CCLA) records are supervising the online digitisation of land records
How to check land record through online
Firstly one has open the official website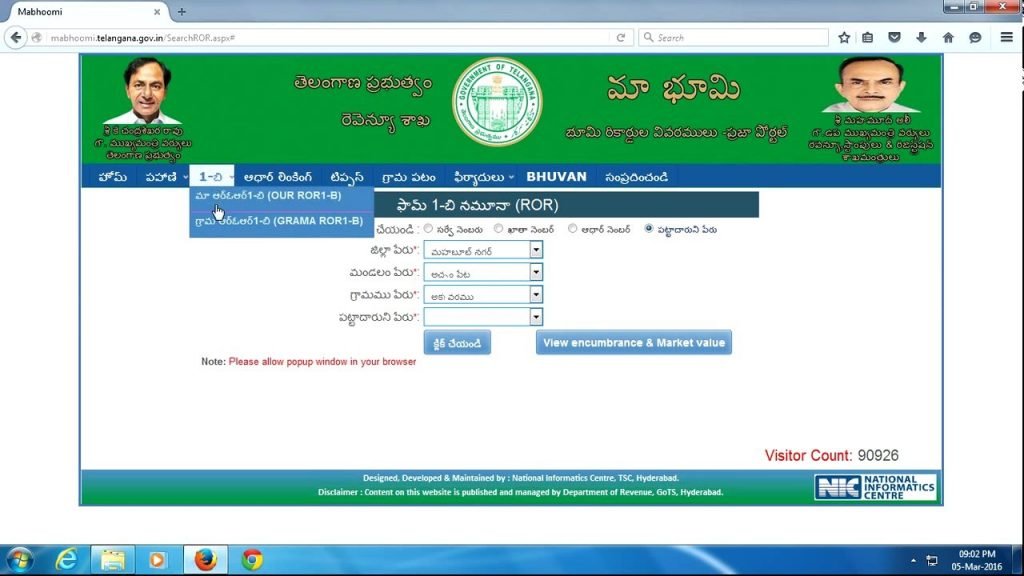 In the home page you will have about 13 tags

Select the tag pahani, which again includes 4 options

Select the option "

maa pahani"

Enter the details carefully

District name, mandal name, village name

Below you will find 4 options, at least one has to be filled up

Survey number, khata number, aadhaar number, enter name

After entering in any one option,

click on button

"click cheyandi"

You can view your patta or a list of all members belonging to that area is also viewed if

"entire list"

is enabled

Click on the name amongst the list

Finally a patta is shown on screen with all the details like survey number, type of land, area, father name, etc.,

Take a print out of it
To view the map of your land, enter the survey number
Note :
When you log on to browser, firstly enable the pop-up browser

Adangal and patta are same.