PAN stands for permanent account number. This is the card issued by income tax department with ten-alphanumeric number. Pan card is useful as one of the identity cards in India. Pan card is issued to a individual, (HUF), Hindu Undivided Family or a company itself. It is mandatory to have pan card, at each level of making transactions. If a transaction in business turnover crosses 5,00,000, then it is important to maintain pan for businesses also. When you buy a land, automobile or any debentures or shareholders exceeding 1,00,000, then it is important to provide pan card.
Pan card now is applicable through online also.  Now there is no need to approach any pan centers or wait for hours to submit the form.
Applying pan card through online is easy and simple process. Through the NSDL Portal link or UTITSL Portal link one can apply pan card in easy manner. Form 49A is the application form for pan card
How to apply PAN Card online
Firstly visit the official website of NSDL

The application form appears on screen
https://www.onlineservices.nsdl.com/paam/endUserRegisterContact.html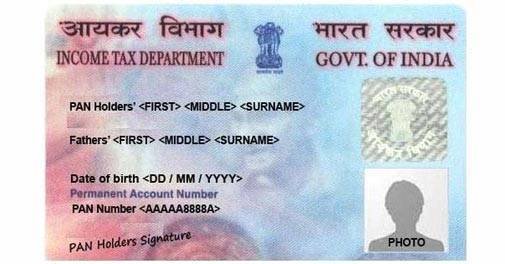 Select which type of application you are applying for

For this, click on application type
New pan – Indian citizen (form 49A)

New pan – Foreign  citizen (form 49AA)

Changes or correction in existing PAN data/Reprint of PAN data(no changes in existing pan data)
Fill in all the details correctly and e

nter captcha in the box

Enter on submit button

A token number is generated and it is 

 sent to your email id

Again click on "

continue with pan application form"

A new page appears on screen with 3 options, as of, through which option the payment is to be made
Submit digitally through e-KYC and e-sign (paperless)

Submit scanned images through e-sign

Forward application documents physically
Note: The details furnished in aadhaar should be exactly matching to the details filling in the form
Select the first option, Submit digitally through e-KYC and e-sign (paperless)

Enter all the details and click on "

NEXT"

button

Again a new page appears on screen asking for personal details residential address, contact details, etc., and click on

"next"

button

A fresh page appears on screen asking for Area code, AO type (Assessing Officer), Range Code and AO number. After filling completes, click on next button

In the final page, you need to upload the supporting documents, photos and signature as proofs

After the documents are uploaded, you need to make the payment of rs.115.90  through online, net banking, credit card, debit card

The next step is undergoing aadhaar linking process

Link your aadhaar and get an OTP number

After aadhaar authentication is successfull, you will have a 15 digit acknowledgement number

Take the print out of this receipt sign and send it to NSDL office

Make sure it reaches within 15 days from date of application.
Finally a new Pan card is send within 15-20 days
What are the documents to submit for applying PAN card
Photo of Identity :
Aadhaar card

Ration card

Birth certificate

Ration card

10th class marks memo

Driving license

bank pass book
voter id card
Photo of Address :
telephone bill
Electricity bill
passport
voter id card
PAN CARD SERVICES OFFICE BRANCH/NSDL office
The acknowledgement receipt with signature should be sent to the below office in the envelope super scribing as APPLICATION FOR NEW PAN CARD WITH ACKNOWLEDGEMENT NUMBER.
INCOME TAX PAN SERVICES UNIT (Managed by NSDL e-Governance Infrastructure Limited), 5th floor, Mantri Sterling,  Plot No. 341, Survey No. 997/8, Model Colony, Near Deep Bungalow Chowk, Pune – 411016
For any queries call to PAN/TDS Call Centre at 020 – 27218080
Also read How to apply passport in India online
Warning
: file_get_contents(https://plusone.google.com/_/+1/fastbutton?url=http%3A%2F%2Fwww.downloadvoterid.in%2Fhow-to%2Fapply-pan-card-india-online.html): failed to open stream: HTTP request failed! HTTP/1.0 404 Not Found in
/home/downloadvoterid/public_html/wp-content/themes/goodnews5/framework/functions/posts_share.php
on line
151